Courtroom One "En banc"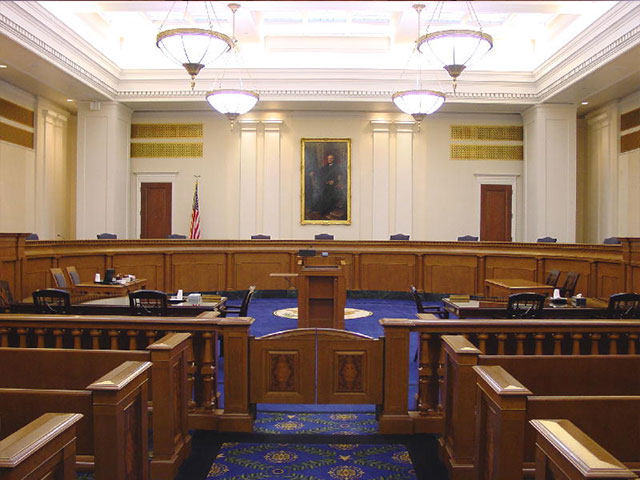 This courtroom was designed and constructed, among four appellate courtrooms, in the early 1990s, as an "en banc" appellate courtroom to accommodate Court of Appeals cases, normally requiring larger groups of judges. It is not an historical courtroom, but borrows classical detailing of the era and occupies a portion of the former post office's public counter and its workroom, housing mail handling and sorting functions. The size of this courtroom's circular bench and its spectator seating is accommodated by moving the walls beyond the bounds of its four columns, i.e., detached columns. The ceiling is accented by a recreation of the original skylight over the post office's workroom. It is now composed of more ornate painted beams and trim and highlighted by faux onyx insets and a circular divided light medallion with the Great Seal of the United States etched in its glass center. Several versions of the Seal have existed, but this pattern is from the seal dating to the late 1800s. The Great Seal is also repeated in the hand knotted carpet inset of the blue carpet in the well of the courtroom.
The judges bench has been designed to have up to 22 judges. It is also used for other special proceedings and naturalizations on occasion. The portrait behind the judges bench is of the Honorable Orie Leon Phillips, who was one of the first judges for the Tenth Circuit. He served the judiciary from 1923, as a federal district judge for the District of New Mexico, to 1929 when he became a court of appeals judge for the Tenth Circuit. There he served for another 45 years until his death in 1974.
Courtroom Two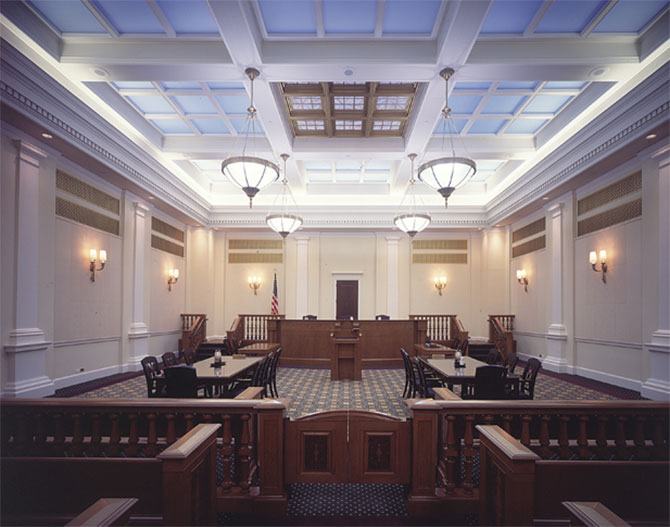 This courtroom was constructed, as was Courtroom 1, in space formerly occupied by the post office's counter area and workroom. That space was used to serve the public and to sort mail. This courtroom is designed as a "en banc panel" type of appellate courtroom used by three judges to hear cases on appeal from the trial courts of the Tenth Circuit.
It is smaller than its companion Courtroom 1, by drawing the walls in, thereby "attached" to the columns. Daylight was brought into the large, open work area by the skylight above, like Courtroom 1's. A luminous ceiling separates the courtroom from the original skylight opening. The grid work from the ceiling is derived from the decorative ceilings that were used in public structures of prominence, circa early 1900s. The grid work, glass and faux onyx are new construction. Each of the six states of the Tenth Circuit are represented by a State Seal etched into the glass panel above.
The painted plaster and wood detailing, although new, is based on Neoclassical or Classical Revival architectural style. The main entry's stone was selected to emphasize the portal and the importance of the room. Figured oak and a bronze Greek key motif add ornamentation and detail to the doors.